Summer is almost here and since I work at the Library I have already composed my
Summer 2012 Reading List
1)
Fifity Shades Trilogy by E.L. James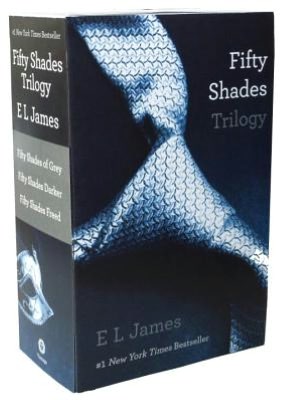 Contains: Fifty Shades of Grey; Fifty Shades Darker; Fifty Shades Darker
Overview-
When literature student Anastasia Steele goes to interview young entrepreneur Christian Grey, she encounters a man who is beautiful, brilliant, and intimidating. The unworldly, innocent Ana is startled to realize she wants this man and, despite his enigmatic reserve, finds she is desperate to get close to him. Unable to resist Ana's quiet beauty, wit, and independent spirit, Grey admits he wants her, too—but on his own terms.
Shocked yet thrilled by Grey's singular erotic tastes, Ana hesitates. For all the trappings of success—his multinational businesses, his vast wealth, his loving family—Grey is a man tormented by demons and consumed by the need to control. When the couple embarks on a daring, passionately physical affair, Ana discovers Christian Grey's secrets and explores her own dark desires.
Erotic, amusing, and deeply moving, the Fifty Shades Trilogy is a tale that will obsess you, possess you, and stay with you forever.
2) The Story of O by Pauline Reage
Overview-
The classic erotic novel, THE STORY OF O relates the love of a beautiful Parisian fashion photographer for Rene. As part of that intense love, she demands debasement and severe sexual and psychological tests. It is a unique work not to be missed.
I was recommended this by the Cosmopolitan Magazine and since we had it at work I decided to give it a try. So far I'm enjoying it but since it was published in 1954 the written context isn't as detailed. At work we also have the comic/illustrated version so when ever I read a few chapters I go and look at the picture. There is also movie for this book and I will watch it after I finish the book. If you liked Fifty Shades of Grey then you should give this a try.
3) House of Leaves by Mark Z. Danielewski
Overview-
House of Leaves
is a multilayered intersection of wild ideas, ten years in the making, from Mark Danielewski. It is also the story of a seemingly normal house gone wild. The novel intertwines the narratives of two haunted individuals: Zampano, a blind man whose strange manuscript is found in his apartment when he dies, and Johnny Truant, the tome's discoverer and narrator of
House of Leaves
.
Zampano's manuscript is a critique of a documentary film called "The Navidson Record," by Pulitzer Prize-winning filmmaker Will Navidson. The filmmaker had just moved his family into a house on Ash Tree Lane and hadn't even had the chance to unpack before the strangeness began. Navidson discovered what at first seemed like an odd prank perpetrated by a psychotic carpenter: Behind a closet door, a hallway with smooth black walls had suddenly appeared. This prompted Navidson, ever the pragmatist, to do some measurements. He learned that the inside of the house was larger than the outside. And the hallway did not just remain a hallway—it was growing rapidly, and there was a deep growl emanating from the darkness that was unlike anything he'd ever heard. Partly out of habit, but also sensing that nobody would ever believe his story, Navidson captured everything on film.
4) The Magic of Thinking Big by David J. Schwartz, Ph.D.
Overview-
Millions of people throughout the world have improved their lives using
The Magic of Thinking Big
. Dr. David J. Schwartz, long regarded as one of the foremost experts on motivation, will help you sell better, manage better, earn more money, and—most important of all— find greater happiness and peace of mind.
The Magic of Thinking Big
gives you useful methods, not empty promises. Dr. Schwartz presents a carefully designed program for getting the most out of your job, your marriage and family life, and your community. He proves that you don't need to be an intellectual or have innate talent to attain great success and satisfaction—but you do need to learn and understand the habit of thinking and behaving in ways that will get you there. This book gives you those secrets!
5) Lolita by Vladimir Nabokov
Humbert Humbert, a literary scholar, has harbored a long-time obsession with young girls, or "
nymphets
". He suggests that this was caused by the premature death of a childhood sweetheart, Annabel Leigh. After an unsuccessful marriage, Humbert moves to the small
New England
town of Ramsdale to write. He rents a room in the house of Charlotte Haze, a widow. While Charlotte tours him around the house, Humbert meets her 12-year-old daughter, Dolores—or Lolita—with whom he immediately becomes infatuated, partly due to her uncanny resemblance to Annabel. Humbert stays at the house only to remain near her. While he is obsessed with Lolita, he disdains her crassness and preoccupation with contemporary American popular culture, such as teen movies and comic books.